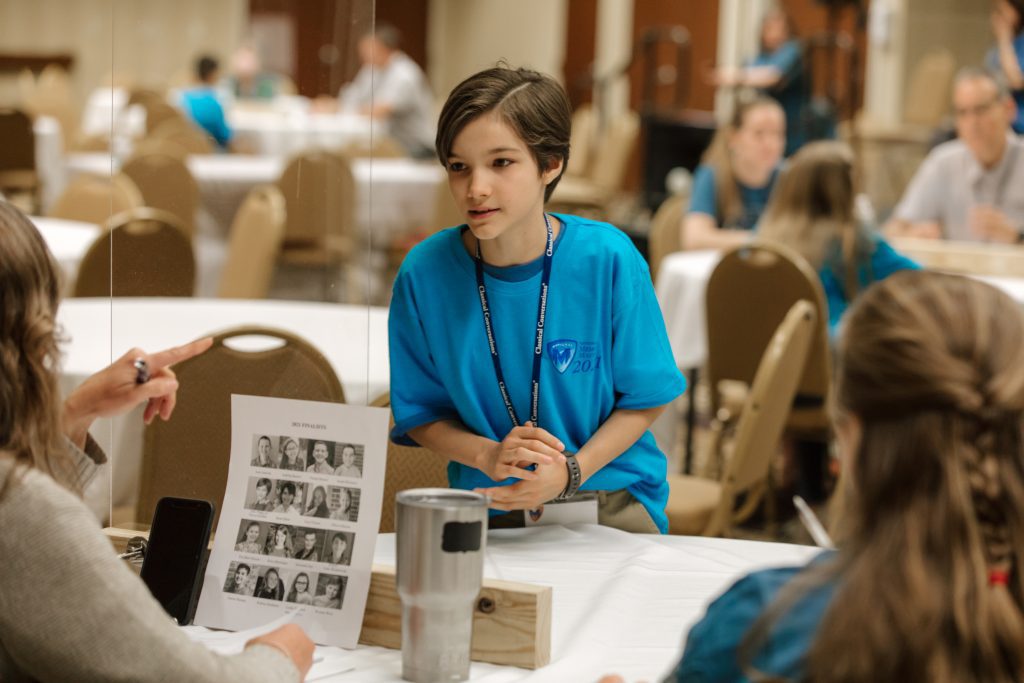 Competing in National Memory Master is an opportunity for Classical Conversations' students to demonstrate their memorization knowledge learned throughout the three Foundations cycles. It's truly a test of hard work and perseverance, as many young students spend several years preparing for this competition!
Every year, 16 finalists from around the United States compete together in-person during the championship event for a shot at a $10,000 prize! Next year, the National Memory Master will be held on April 28, 2022 in conjunction with our National Conference and 25th Anniversary Celebration at our home office in Southern Pines, NC.
However, it's not the possibility of the cash prize that has made this event a Classical Conversations' favorite. Rather, for both parents and students alike, the competition is so memorable and valuable because it prepares students for success in the Challenge program and throughout the rest of their lives.
National Memory Master Builds Confidence
One of the major reasons our families love National Memory Master is that it establishes students' confidence.
Think about it — these students memorize literally thousands of facts, including geographical locations, historical dates, and Latin declensions and conjugations. If that isn't a feat in and of itself, they then demonstrate their mastery of this knowledge in front of their families, peers, and judges.
The confidence gained from participating in National Memory Master goes with students into the Challenge program and even beyond that into college and careers, since they know they can achieve seemingly impossible feats — like memorizing over one thousand pieces of information!
As CC parent April Jirsa said, "Doing National Memory Master taught Ivy that she can learn and memorize a large amount of material just by working hard and not giving up. This was huge! She is not afraid to tackle any lesson… every lesson seems small compared to learning an entire CC Cycle."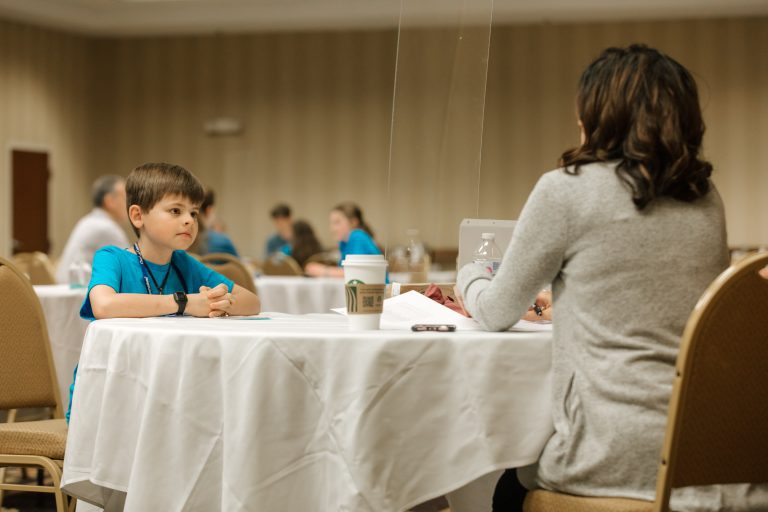 National Memory Master Teaches Time-Management Skills
Preparing for National Memory Master takes time — a lot of time.
Throughout the year, participants must master their memorization work, and sometimes in addition to other schoolwork. So, they naturally learn how to budget their time, planning out what they need to have memorized and when they need to have it memorized by.
Most students learn effective time-management during high-school. But those who participate in National Memory Master often get a head start on this skill, so that the transition into the more independent learning and demanding coursework of the Challenge programs comes much more easily.
"My son, Ethan, and I would sit down and make a plan for what he needed to work on each day," said Kimber Morrow, a CC parent. "This included his own schoolwork, Essentials, and also National Memory Master work — like the timeline backwards — and he would prioritize his day and work. We would take breaks and I would go over stuff with him during the day, but this was his responsibility and he took ownership of this."
National Memory Master Encourages and Understanding of the Material
National Memory Master contestants work incredibly hard to memorize information from the Foundations cycles, and it pays off in more ways than in just the competition.
Whether one of the 16 finalists or not, all participating students leave the competition successfully equipped with an expansive knowledge base that they can draw upon during the Challenge program. With this knowledge, researching and writing papers, translating Latin, completing algebra exercises, and debating ideas in the student-led seminars come much more naturally.
One of our previous contestants, Elizabeth Pryzbyla, said, "Knowing the memory work very firmly — especially the Latin declensions and conjugations — helped prepare me for Challenge A. The cartography for the world map drawing taught me the basic shapes of many of the countries. It also taught me how to memorize drawing the countries on a grid because I did it over and over again in preparation for the competition."
How to Get Started
To enter next year's competition, your student must complete a Cycle 1 proof with their local licensed community Director by January 24, 2022 and must also have proofed successfully as a Memory Master during a previous school year. And of course, you should have confidence that your child can accurately recall information from all three Foundations cycles.
Although contestants must be 11 or 12 years old to compete, preparation for National Memory Master is a several-year process, so if your child is between the ages of 6 through 9, now is the time to get started!
To learn more about the competition, including how your student can participate, click here. And to stay up to date with all our events, follow us on Facebook!