On January 2, 2017, I posted a message and picture on our Classical Conversations Official Facebook page and received 2.1K reactions and 395 comments. I never imagined that our homeschool-to-college testimony would have received so much attention! Over the years, I would go back to the post and give more updates on my daughter's collegiate journey. I couldn't believe that my homeschooled child was actually accepted into not one college, but six! My biggest fear of how do homeschoolers get into college was dissolved.
Can Homeschoolers Get Scholarships?
My next hurdle was figuring out how to pay for college. Shockingly, all six colleges and universities offered her more than enough in scholarships.
You might be thinking, "That is a great story for their family, but that will never happen to our family." I was "Doubting Thomas" for years. I couldn't see what was ahead, and I questioned everything when it came to high school credits, official transcripts, and homeschool diplomas. But by trusting the homeschool process, not only was my daughter accepted into multiple colleges but she received plenty of scholarships.
Now faith is being sure of what we hope for and certain of what we do not see." – Hebrews 11:1
How Do Homeschool Students Get Into College?
Parents ask me all the time, "How do homeschool students get into college?" Here are a few practical tips that I implemented along the way to help my daughter get into college:
Start practicing. My daughter took the ACT starting in 8th grade. She took it ten times. Her score started at a 20 composite and steadily rose to a 30. She learned how to discipline herself (the theme of Challenge B), the importance of taking standardized tests like the ACT and SAT, and learning from her mistakes.
Give your student the "why." I explained to her the "why" behind taking these tests in 9th grade and we studied the strategies behind the test and implemented them.
Set aside time. I built ACT/SAT prep practice tests into our school week for 30 minutes per day, three days per week. Sometimes I timed her and sometimes I didn't. We worked on speed and accuracy.
Build character and virtue. My daughter was obedient to my request and carried a spirit of excellence upon her. We followed the recipe and remained faithful to the process and were blessed with beautiful results.
I read The Core, The Question, The Conversation by Leigh Bortins. I read Echo in Celebration. I read Classical Christian Education Made Approachable and many more. I read the books alongside my children. I require them to do math year-round for one hour per day since 5th grade with a few breaks in the year. They finished their Saxon Math books before starting the next one without skipping problems and working out the problems they missed. I struggled with consistency and discipline, but with the help of God, my husband, and my community support, we persevered.
When we started homeschooling, I set a goal to read the Word of God together every day. We read the whole Bible from cover to cover reading two chapters per day. It took us two and a half years, but I believe it was the foundation that our home school was laid upon. My daughter continued to read the Word on her own and read through the Bible at least two more times. This is a testimony of putting works to our faith.
Even so faith, if it has no works, is dead, being by itself." – James 2:17
Is Classical Conversations Enough?
My daughter was in a traditional private school until 4th grade. We started homeschooling her in 5th grade and joined a Classical Conversations community the next year. There were very few communities in Louisiana in 2010. She had the opportunity to do one year of Foundations and one year of Essentials before moving on to the Challenge program. She completed Challenge programs A-IV. We used academicrecords.net for her high school transcripts and our home printer to print her high school diploma.
She applied to three public universities and three private colleges. Four were in-state and two were out-of-state. One of the most surprising acceptance letters was from Tulane University. She was not only accepted (11% acceptance rate) but offered $100,000 in scholarships because of her academic merit. Other schools that she received acceptance and scholarships from were St. John's College, Berry College, Louisiana State University, Southeastern Louisiana University, and Northwestern Louisiana University.
At least for our family, yes, Classical Conversations was enough.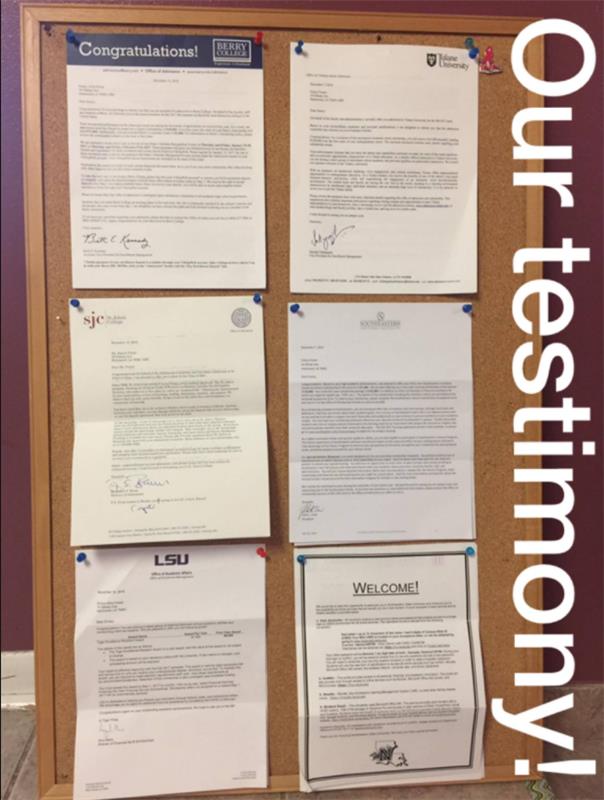 Staying the Course Yields Fruit
The Challenge programs prepared her by requiring her to read lots of hard books. The classical model taught her how to think and not what to think. We never added any additional material outside of the Classical Conversations curriculum. Trust me when I say it was plenty. We didn't do outside dual enrollment coursework for college credit. We stayed the course, and it paid off in dividends!
I learned that a deep-rooted plan to trust God in all things must be established in the journey to homeschool through high school. Homeschooling is hard. When you are close to giving up, dig deeper (read my blog post "What to Do When Homeschooling is Hard"). God doesn't call the equipped, he equips the called. Stick to the plan and stand firmly rooted in Christ. And my absolute best piece of advice is this: don't make any important decisions when you are tired and weary!
He is like a tree planted by streams of water that yields its fruit in its season, and its leaf does not wither. In all that he does, he prospers." – Psalms 1:3
Yes, Homeschoolers Can Go to College!
My daughter graduated from college in May 2021 with zero college debt, with honors, and with a 4.0 GPA! She received the highest award in her college: the President's Award for Academic Excellence. And, she attributed much of her collegiate success to her classical education and being part of a Classical Conversations community. We are so grateful to God for giving her these amazing opportunities and thankful for Classical Conversations' incredible homeschool curriculum!
Enter into his gates with thanksgiving, and into his courts with praise: be thankful unto him, and bless his name." – Psalm 100:4
Not yet a Classical Conversations member and interested in our community-based approach to homeschooling? We'd love to hear from you! To learn more about us, click here.