The following post was written by Laura vanHofwegen, a Classical Conversations Support Representative, about her and her son's experience with Faces of History.
Faces of History: What is It?
Faces of History, a research paper and presentation, is a pinnacle assignment culminating each year of our Essentials program. Choosing a historical character to research, the student writes a five-paragraph research paper after selecting sources, exploring topics, and practicing their writing skills developed over the course of the academic year. Students plan costuming and prepare oral presentations based on these papers, often speaking from first-person perspectives. Finally, families gather together in community and celebrate these presentations together as the capstone event of the Essentials year.
Peace Over Panic
"…But don't you step on my blue suede shoes," blared out of a portable speaker on a makeshift stage while a jumpsuit-clad figure, tapping his foot and glancing over the top of his over-sized reflective sunglasses, brushed a coiffed hank of black synthetic hair from his forehead.
Insecure about such presentations and initially dreading the day, my second son came alive that afternoon, not as himself, but as Elvis Presley. To the audience, Elvis himself recited three minutes of first-person testimony. To me, my precious 10-year-old boy brought his best. And the previous four weeks of diligent — sometimes painful — effort flashed through my mind.
In March, there was fear and panic. How could my timid boy succeed? By April, there was rest.  How did we come to a place of peace? Looking back, I am now reminded of a beautiful quote from Louisa May Alcott's Little Women, "I am not afraid of storms, for I am learning how to sail my ship." Learning to proceed in peace (not panic) took deliberate thought. Clear instruction, an opportunity for practice, and measurable expectations early on helped us to ease my son's fears. The Faces of History project is not to be missed, for storms like these are weathered by practicing the process — learning to sail our ships.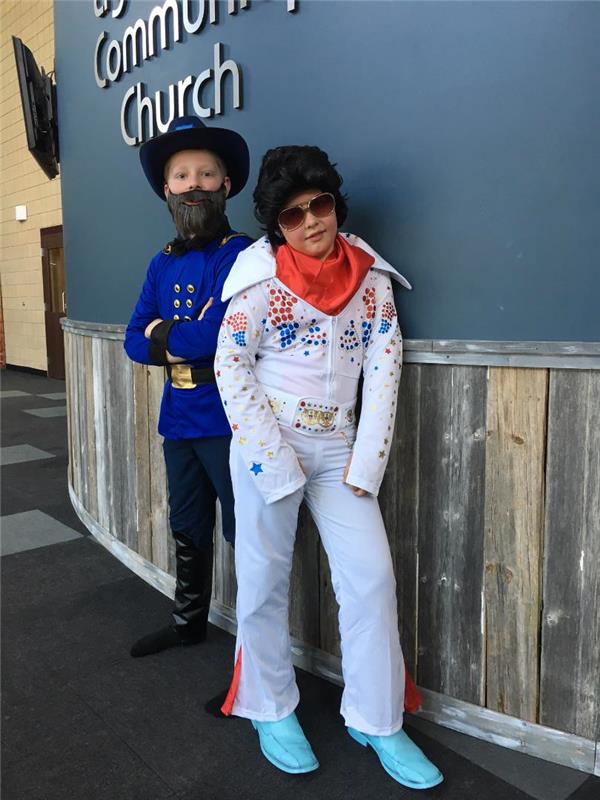 Process Over Product
In TeachingWriting: Structure and Style, Andrew Pudewa, founder of the Institute for Excellence in Writing (IEW), comments, "Teaching a skill is more about process, less about product."
But wait — isn't the Faces of History project all about the final product? The final presentation? Recently, I asked my same son, now four years older, to remember that first Faces of History project.  Interestingly, instead of recalling the presentation itself, he mentioned, "Boy, it was a challenge to find good research sources, but I sure did love fusing those outlines!" He continued reflecting on some of the key skills he had practiced during the multi-week assignment, including not only choosing sources and penning outlines, but also composing, editing, and adapting the research paper into a first-person oral presentation… completely memorized!
I internally cheered. Yes! These steps and skills are developed over the course of the entire academic year — indeed, over the course of the three years a student typically spends in the Essentials program. Diligent, intentional commitment to the steps, cycle after cycle, leads to mastery and confidence.
My son, now in the Challenge program, continues to use these skills on a weekly basis. We might hardly remember the final Elvis presentation today, but there is tremendous and lasting value in faithfulness to the process as there is tremendous and lasting value in learning to sail our ships.
Play Over Perfection
Children like to do what they know how to do. Decide with your student: Where are we aiming our ladder? Are we aiming for the "perfect" presentation or are we committing to the enjoyment of a process? To gaining skills adeptly? To practicing perseverance along with pleasure?
Children effectively learn through play without the expectation of perfection. Modeling this big-project progression one small rung at a time makes a large assignment manageable, and we as parents can rest and enjoy the process when the focus is on experiencing the project parts for what they are and, more importantly, the souls of our children for what they are.
According to Dictionary.com, the origin of the verb "to play" comes from an Old English word meaning, in part, "to leap for joy, rejoice." One joy of this project is that it doesn't have to be so serious. We ditched the expectation of perfection and instead applied some creativity while continuing to work within the established framework. My boy's Elvis presentation was far from perfect but viewing this project as play leading up to it was priceless. We slowed down, rejoiced in the small victories along the way, and loved our son. We celebrated then, and we celebrated the next year while repeating the process again (Poseidon!) and again (Shakespeare!) during his final Essentials tour.
Faces of History: A Project Worth the Investment
Parents, your investment in the skills gained by stepping deliberately through this multi-week, multi-step assignment is not in vain. At the culmination of Faces of History, ask yourself: Is my student the same person he was when we began? Am I? Look ahead with expectancy and relish the gift we grasp by walking alongside our children through character-developing assignments like Faces of History. Rest in peace, utilize the process, and incorporate play.
My timid boy was not afraid in the end; he was and is learning to sail his ship. I knew it was so when he clomped off the stage in his blue suede (spray-painted) shoes and his curled lip uttered assuredly, "Thank you, thank you very much!"
Not yet a Classical Conversations member and interested in our community-based approach to homeschooling? We'd love to hear from you! To learn more about us, click here.