Classical Conversations provides equipping for me! As a homeschool mom with two children in Foundations, one in Essentials, and three in Challenge, I feel empowered by Classical Conversations to educate my children from a classical, Christian approach. Through CC Connected, Classical Conversations provides online resources for parents to help them understand the classical model and implement that model at home in a specific program (Foundations, Essentials, or Challenge). These resources have helped me lead in learning at home from a posture of rest and joy.
Here's how I get the most out of CC Connected. I help these tips help you find rest and joy as well!
How CC Connected Helps Me as a Homeschool Parent
The new CC Connected is full of curricular materials, including short videos, PDF documents, and e-books, each organized by program, week, and strand. Here are a few ways I've made the most out of them.
As a Parent-Teacher
I watch and periodically rewatch the three core videos under First Things: The Art of Grammar, The Art of Dialectic, and The Art of Rhetoric. These short videos clearly explain the stages of learning and give me vision in my child's current stage as well as our destination.
You can find these videos in Week 0 of the Foundations, Essentials, and Challenge programs.
1. Learning Center > 2. Choose Your Program > 3. Parent Preparation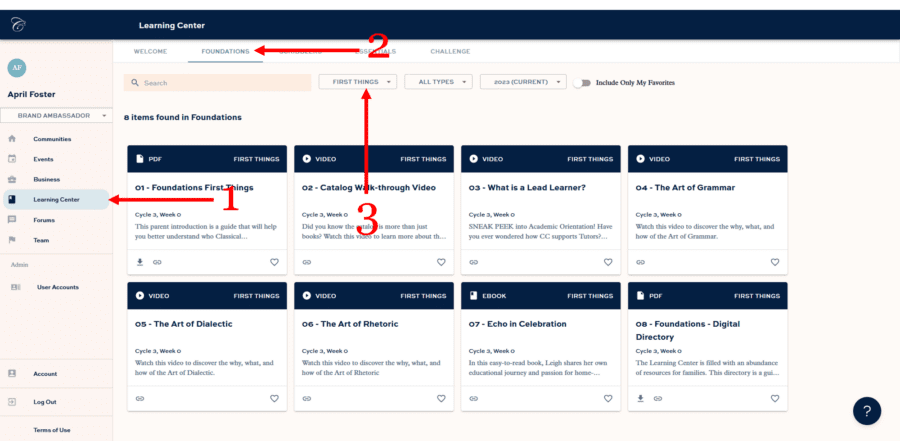 Tip: You can favorite resources by clicking the resource's heart icon. You can quickly find your favorites in the My Favorites category.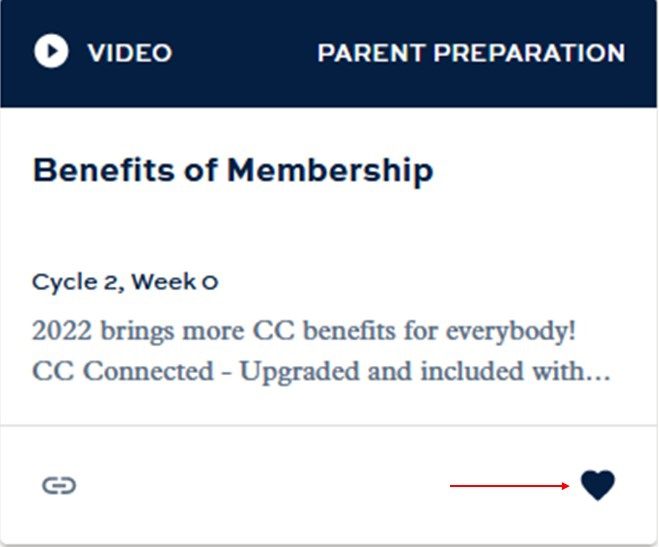 ---
Read:"What Are the Five Common Topics of Dialectic?"
For Foundations
This is how I easily sort for weekly resources in Cycle 2:
1. Learning Center > 2. Foundations > 3. All Categories > 4. All Types > 5. Current Year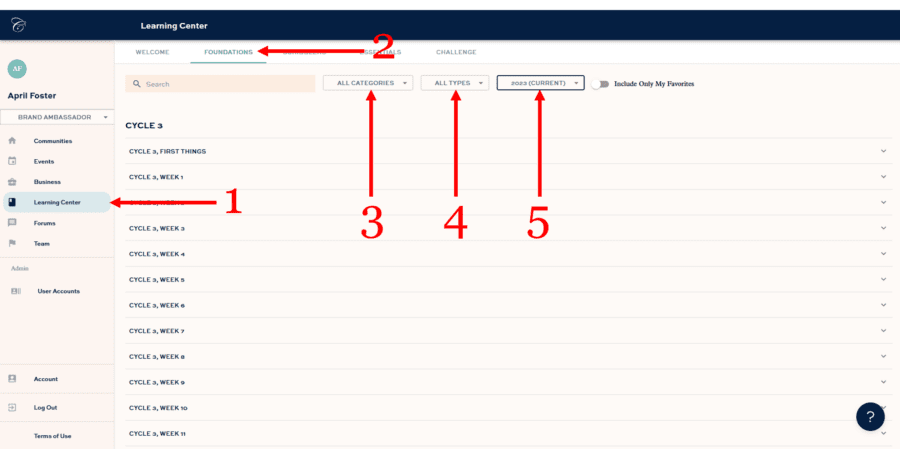 I consistently reference these three resources each week throughout the twenty-four weeks of Foundations:
1.. Foundations @Home Videos
These videos provide ideas for stick-in-the-sand learning to memorize weekly new grammar and to have fun playing with learning. The ideas shared in these videos can easily be implemented while playing outside, riding in the car, or even in the bathtub. Foundations learning can truly be done anywhere!
2. The Sandbox E-zine PDFs
These introduce new grammar and week-specific topics in a magazine-style format. The extra resources for parent and student to implement at home during the week range from books to read, recipes to make, family activities, parent equipping and encouragement, Challenge-level connections, artwork to discuss, poetry, worksheets, practicing cursive, and Scripture truths.
3. Hands-On Science Videos
These videos offer short, fun, and practical activities that are easy to prepare. I often like to go back to previous weeks' activities and tweak them for further exploration into a topic.
Tip: I like to print out and spiral bind each issue of The Sandbox by week. At the end of the cycle, I will have twenty-four little magazines of our memory work with extra resources to pick and choose from when I have extra margin during the week or when my child shows unique interest in a specific topic (or memory work peg) we have memorized.
For Essentials
I use these resources for Essentials the exact same way as Foundations! The only difference is clicking on the Essentials tab at the top.
1. Learning Center > 2. Essentials > 3. All Categories > 4. All Types > Current Year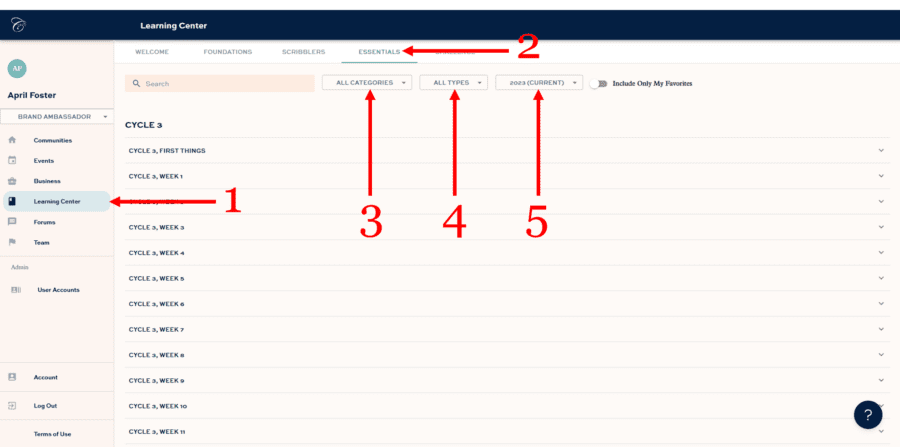 Just like Foundations, these resources are organized into twenty-four weeks.
I reference these four Essentials resources each week, based on our current week:
1. Essentials @Home Videos
These short videos help me plan out each week. They help me set goals and develop a vision of where we're going.
2. Onward E-zine PDFs
Like The Sandbox e-zine, Onward e-zine contains new grammar, reading, activities, practice, games, and more. These e-zines help me plan out the week and give my child more than enough learning material to play with and work through.
3. Essentials Spelling Videos
I let my child watch these videos to practice spelling. Each video takes about 15–20 minutes to complete, but I can always press pause and give my child extra time if needed.
4. Essentials Chart Videos
These videos explain the different charts used in Essentials. Generally, each video will introduce a part of speech using a helpful image or metaphor and then provide its definition and examples before discussing the chart itself.
Tip: You can copy the link to a resource by clicking the link icon. You can then paste this link into a Word document or Excel sheet.
Don't waste time better spent learning and playing on searching for resources; decide which activities you'll use at the start of the week, and save those links as part of a schedule!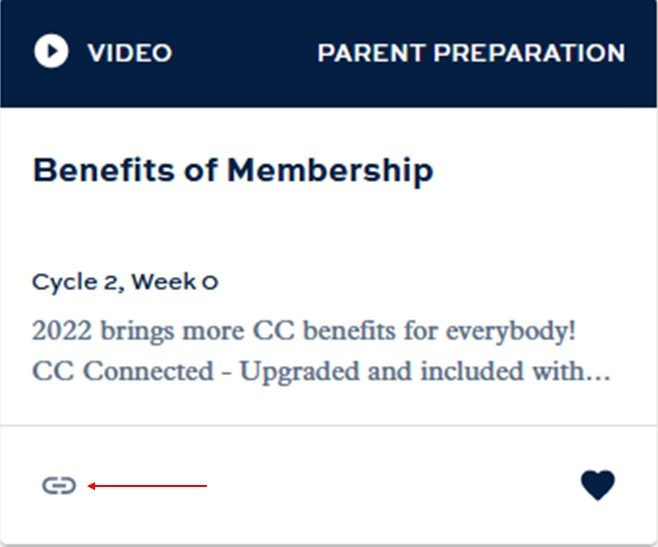 ---
Read: "What Are the Five Common Topics of Dialectic?"
For Challenge
The Challenge programs' resources are similar to the resources found in Foundations and Essentials, but there are more of them since the Challenge program is a broader program with more assignments.
I'll watch many of the videos tailored to specific projects with my student. I appreciate the short length of the videos, the quality of the explanations, and the coaching for parent and student.
1. Learning Center > 2. Challenge > 3. Challenge A > 4. All Categories > 5. All Types > 6. Current Year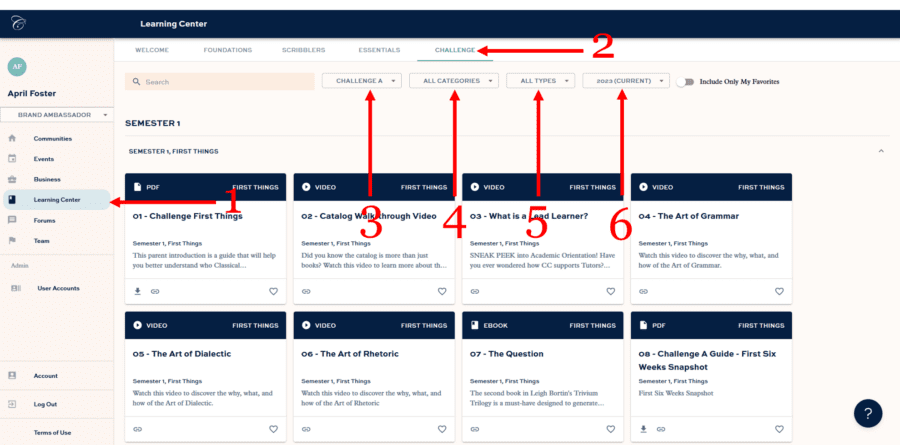 Each Challenge program is divided into thirty weeks. The Challenge resources are week-specific, helping me lead my student in understanding the weekly assignments in the Challenge Guides.
Furthermore, these resources encourage me to lead the learning conversation throughout our week, not only one-on-one with my student but as a conversation for the whole family—Dad and little children included!
---
Read: "What Are the Five Canons of Rhetoric?"
CC Connected: Online Support for Homeschool Parents
The new CC Connected parent resources support me as a classical educator and give me practical ideas to engage with my children during the week at home. I return to many of these resources every week; they ease the difficulties of homeschooling and make me feel empowered rather than overwhelmed. And, perhaps most importantly, they fill me with wonder at God's majesty. I hope these tools and resources help you as much as they've helped my family.
To sign in to your CC Connected account and explore the digital homeschool resources it has to offer, click here.
Not yet a Classical Conversations member and interested in our community-based approach to homeschooling? We'd love to hear from you! To learn more about us, click here.
This post was written by Michelle Travis, a Classical Conversations parent from Texas.