Art is a wonderful way of learning that fits beautifully into the classical model of education. Classical education focuses on method rather than content—how to learn is more important than what to learn. Art aligns with the trivium, taking students through the grammar, dialectic, and rhetoric stages of learning and integrating various subjects into a seamless whole.
Courtney Sanford, a full-time author and artist who homeschooled with Classical Conversations, discusses creative ways to integrate art throughout your curriculum during the Challenge years.
Homeschool Art and Beauty throughout the Challenge Years
The Challenge years are undoubtedly a busy and demanding season, but it is essential to prioritize beauty and creativity in our homeschooling journey, even as our children transition into their teenage years.
Engaging in artistic endeavors has a wonderfully calming effect, and while you might initially think, "We're already too busy!" I assure you that dedicating even a short time to drawing will yield significant benefits in terms of improved focus and attending to beauty all around you.
Visual Learning: How to Integrate Art into Homeschool Lesson Plans
I recommend setting aside just 20 minutes once a week for a "Sketchbook Break." By incorporating the following suggestions into this routine, you and your Challenge students will gradually begin to perceive art all around you, constantly considering what you'll draw during the next Sketchbook Break. All you need is a sketchbook and a pencil to get started.
Challenge A
Your students in Challenge A will be drawing a map daily as a memorization technique. Why not dedicate one day to drawing an exquisitely detailed and beautiful map?
Take inspiration from the maps created by Tolkien, where mountains are represented by triangles, water by wavy lines, and tiny clusters of trees symbolize forests. Try sketching one map each week in Tolkien's distinctive style.
Who knows, you might end up with a collection of maps that can be elegantly framed and displayed in the family room.
Challenge B
In Challenge B, as your students read and write short stories, encourage them to create drawings inspired by the animals or characters within these narratives.
For instance, if they're reading "The Celebrated Jumping Frog of Calaveras County" by Mark Twain, search online for realistic illustrations of frogs in action. Print out a few examples and encourage your students to draw them.
Alternatively, if the story lacks animals, they can sketch the setting by searching for photographs of the story's location and drawing from those images.
Challenge I
In any Challenge level, but especially Challenge I, infuse a touch of art into your Latin sessions.
Explore the enchanting world of "Ancient Roman Frescos" or "Ancient Roman Mosaics" online. You may stumble upon illustrations of vocabulary words or intriguing elements that captivate your students.
Print out a fresco or mosaic and allow them to draw it.
You can even try your hand at creating your own mosaics by cutting out small shapes from magazine pages, arranging them, and gluing them in a mosaic pattern or scene within your sketchbook.
Challenge II
Challenge II presents the opportunity to delve into various artworks through reading and discussion. Encourage your students to sketch a portion of a specific art piece or explore other works by the same artist.
For instance, in the painting "The Arnolfini Wedding Portrait," pay attention to the placement of oranges on the windowsill, and challenge your students to arrange and draw their own composition of three oranges. Observe the interplay between light and dark areas in the painting, and strive to replicate those shades within their drawings.
Challenge III
Challenge III is an excellent time to explore the interconnectedness of math and art.
Introduce your students to the remarkable artist M. C. Escher and his intricate black-and-white patterns inspired by mathematical concepts.
For example, consider how an artist might illustrate "infinity." A simple approach could involve drawing a line that extends off the paper in both directions, but you can also get creative by drawing a line of traffic cones or tulips that extend endlessly out of sight.
Escher depicted ants crawling over Mobius strips to illustrate the concept of traversing the strip and ending up on both sides, back where you started. Encourage your students to draw something else traversing a Mobius strip or explore other math concepts that could inspire unique drawings or patterns.
While rulers and compasses are typically seen as tools for mathematics, unleash their artistic potential and discover the wonders they can create!
Challenge IV
In Challenge IV, as your students delve into the Iliad and Odyssey, these epic stories abound with fascinating characters and captivating events that can serve as inspiration for drawings.
Consider waves, lotus flowers, ships, and the mythical Cyclops! Begin by examining existing drawings you find online, and then encourage your students to make these images their own by changing one aspect (or multiple aspects as their confidence grows).
Drawing from a visual reference or photograph can make the process easier to initiate.
A fantastic project could involve creating your own illustrated version of the Iliad and Odyssey, where each week, you create a drawing based on the portion of the story you have read.
Accompany the artwork with a few lines describing the story, and you'll have a remarkable art journal that vividly tells the tale.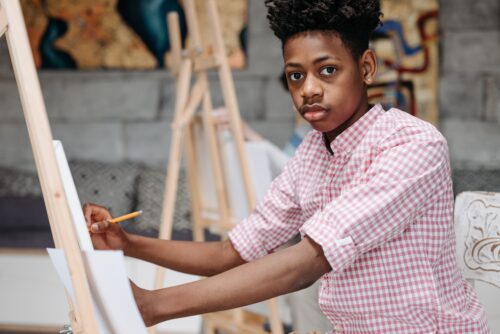 Embrace the Power of Creativity in Your Homeschool
As you establish the habit of dedicating 20 minutes each week to drawing, your students will naturally start contemplating what they could draw as they read and observe the world around them throughout the week. They may even develop such a passion for drawing that they wish to engage in it more frequently.
Remember, the practice of creating art reduces stress, heightens our awareness of beauty, and improves drawing skills, all while enhancing the coursework of Classical Conversations.
So, let us embark on this journey of artistic exploration and embrace the power of creativity!
For additional ideas on integrating art with Classical Conversations, I invite you to visit https://www.delightfulartco.com/cc-match-up.
---
Read More: "Helpful Tips for New Challenge Families"