I was chatting with a friend recently about how difficult and overwhelming it can be to start something new. We often want to be perfect before we even begin!
Homeschooling littles for the first time can definitely feel this way. One of the challenges or hurdles of homeschooling is that as our children start something for the first time, we must also jump into that unfamiliar territory with them.
Instead of seeing this as a negative, however, I truly think we can see it as an opportunity to be lifelong learners. It is never too late to start something new and deepen our love of learning!
Cultivating Lifelong Learning in Parent and Child
When I went through the Classical Conversations® Challenge program myself in high school (many years ago), the material was all so exciting for me. The curriculum introduced me to Jane Austen, Shakespeare, Francis Shaeffer, and many other great writers and thinkers.
 Read: "Why Read Classic Literature"
And yet my love for learning and knowledge was cultivated long before the Challenge program with science projects in the backyard, trips to historical places with my family, and even learning how to bake bread with my mom.
 These experiences were a blessing, helping to grow something long-lasting in me. I am sure many of us can look back and pinpoint something that stirred up interest or imagination in our younger years. It is so interesting that as we get older and start to have our own children, it can seem more intimidating to continue this cultivation of learning and growing in ourselves.
You can't go back and change the beginning, but you can start where you are and change the ending.  —C. S. Lewis
I've been a Director of various communities in the Challenge A program for about six years now. Every year, I am grateful to learn a myriad of new things! This cultivation of learning can truly have no beginning and no end. As we start to teach our own littles, we can help stir up their desire for learning and let that same desire be stirred in ourselves.
Here are a couple of tools available to us when homeschooling children of various young ages with lifelong learning in mind.
Tools to Cultivate Lifelong Learners
Classical Conversations has recently published a new resource, Scribblers at Home: Recipes from Lifelong Learners. Scribblers includes a range of topics—Poetry, Phonics, Literature, Arithmetic, Latin, Science, History, and the Bible—as well as a daily and weekly personal schedule. The resource avoids mindless busy work and instead offers purposeful read-alouds, crafts, games, and other interactive tools to help cultivate a love for the good, true, and beautiful in our little learners.
Both my three-year-old and my Foundations-aged child love the activities offered by Scribblers! Something I love about Scribblers is that it encourages parents to remember that play is the work of childhood. Littles learn by example, involvement, imagination, and freedom to explore. And parents don't merely work to cultivate knowledge in their children; first and foremost, we must cultivate our relationship with their little souls. Classical Conversations provides us the opportunity to do so with such flexibility.
One of the most common questions I have heard from my friends about starting off their homeschooling journey with young children is, "How do I do Classical Conversations at home?" They love community day but maybe struggle with knowing how to implement the program daily. Scribblers at Home is a great resource if you are working out how to create your own rhythm at home with young children.
Don't Give Up!
Seeing learning as a lifelong task can truly help us to keep up this good work.
In Hebrews 12, we are told to "run with endurance the race that is set before us." Christ will complete every good work in us as we walk forward in obedience. The things that are most important are likely those that take a great deal of time and care. God's love is patient, forbearing, and steadfast, and His love cultivates those traits in us. In a similar way, we love our children best when we help cultivate long-lasting virtues in them. Through simple efforts—reading a poem, taking a trip to the library, walking in nature, or making Bible crafts—God will use us to cultivate life-giving tools for our children.
 Read: "48 Best Homeschool Field Trip Ideas"
The hope is that as we grow as lifelong learners ourselves, we can cultivate our children's hearts and minds toward this goal as well, not only throughout their school-age years but beyond that for the rest of their lives as they seek to know God and make Him known.
So enjoy these seasons of educating our littles!
Bonus: A Homeschool Activity for Lifelong Learners
Here's an activity from Scribblers at Home you can do at home with your lifelong learners: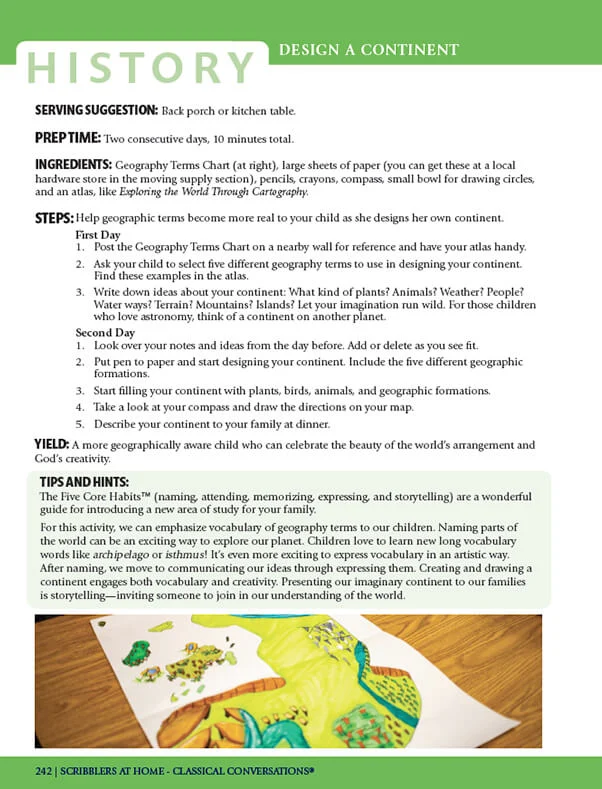 Written by Lauren Clickner.